Monthly Archives:
March 2011
So I modified the previous layout a bit.
The concern i voiced about the 3640 was enough to make me figure out a way to have that one as the bottom piece of equipment.
This is what i ended up with: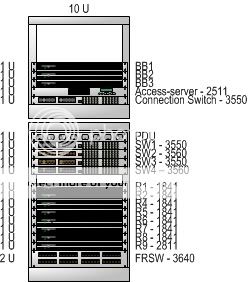 It worked out pretty well. All the cables were long enough to accomplish the design above. On top of it all i have my remote power switch so i can power it all on/off remotely.
I also configured the access-server (2511) so i can access all the devices directly. For some reason the first configuration i did on this didnt work at all. Deleting all config and starting over fixed the problem. Dont ask, i dont have an explanation for this
Power wise, i was pleasently surprised. When the entire thing is on it takes about 620Watts, which is far less than i expected. Obviously the 3640 router is the power hungry beast of them all.
Noise…. Yes, it makes alot of noise. Its actually the 2811 router that has a bad fan which makes the most noise. If/When i replace this fan, it will calm down quite alot.
I will post a picture of the final setup once im done doing the cables.
I need to start cabling all of this gear into place. I have made a layout which i think i will try out.
The only thing that concerns me is the weight of the 3640 router. Its a heavy baby.

As you can see i have most of the routers on top, with only 3 backbone routers in the lower section (16U section). I need to have the Frame Switch pretty centralized as my cables for this are not very long.
Anyways, i might run into issues that will change this, but so far, thats what i got
I have received the rest of my routers (1841s), I have also received the memory and flash upgrades for them all (256meg memory and 64mb flash). The guy who sold them to me was very helpful and it turned out he had the cables that i needed as well (some Smart-serial to Smart-serial, as well as some DB60 ones).
Right now im doing some configuration for my access-server as well as checking out that all the memory and flash modules work as expected. So far nothing has gone completely wrong (knock on wood).
I finished installing my extension rack, so i now have 26U available in total. For some reason its already pretty filled
I need to redo it a bit though since my frame switch needs to go physically closer to the routers. Still some design work there. But other than that its all good.
I am doing some vLectures from INE as well as some volume 1 labs from IPX. I have installed evernote, and i have created one giant task list from the detailed blueprint, which i will use to lab every single thing on it, and cross over that task when im done with it. Hopefully within a few weeks i should be done.
I havent actually rescheduled my lab date yet, mainly because of work constraints, but i plan to in the VERY near future, and not to far out in the future either.
Right now its early morning, and im doing some more Volume 1 labs to get everything settled into my brain. Coffee and Red Bull seems to help alot. Remind me to thank them later on